Press Release (EN)
Jakarta, 10 August 2022 – DANA, the leading digital wallet-based financial technology company that provides platform for payments and financial services, today announced the close of the latest investment from Sinar Mas and leading e-Commerce company Lazada Group. This latest investment is a testament to the two new investors' trust and conviction in DANA's vision, strategy, and its pivotal role in advancing financial inclusion and literacy in Indonesia for the masses. With the strong support of new local and regional investors such as Sinar Mas and Lazada Group, along with the continuing and unwavering support of EMTEK Group and Ant Group, DANA is well positioned to accelerate the growth of its open ecosystem platform supporting the rapid digitalization of Indonesia.
Today, DANA has reached more than 115 million users throughout Indonesia. According to data.ai, DANA is the #1 most-downloaded Finance application in Indonesia in 2021 [1] . Since its launching in late 2018, DANA has successfully and steadily grown by providing safe, easy, and convenient end-to-end digital transaction solutions. Supported by leading technology and over 900 employees, a majority of which are Indonesia's leading FinTech engineers, DANA now processes an average of over 10 million transactions a day. DANA's users consistently rate DANA as the #1 finance application on application stores. DANA's leading technology with wide developer integration options enable easy self-onboarding for merchants, accepted by over 18 million merchants on the national QR Indonesia Standard (QRIS) network, and integrations with financial institutions, with the implementation of the national open-API payments standards (BI-SNAP).
DANA's vision of greater financial inclusion and literacy in Indonesia aligned with the Indonesian government's strategic priorities and Bank Indonesia's Indonesia Payment Systems Blueprint 2025. With over 43% of the population estimated to be unbanked [2] , digital payments are the first touchpoint for many Indonesians to financial services. According to Bank Indonesia data, digital payments have exceeded both credit cards and debit cards as a payment instrument in terms of transaction volume at over 16 billion transactions in 2021. In terms of transaction value, digital payments also exceeded credit cards significantly at IDR 786 trillion (~US$54 billion) compared to IDR 245 trillion (~US$17 billion) in 2021. DANA continues to broaden access and literacy to holistic digital financial and lifestyle services, which is especially important for the recovery of the national economy post-pandemic. In 2020, DANA was recognised by Bank Indonesia as the best implementer of the QRIS system. DANA was also an integral working group member in the drafting of the national open-API payment standards or BI-SNAP.
With over 65 million estimated Micro, Small, and Medium Enterprises (MSMEs) in Indonesia, DANA is also focused on supporting the digitalization of DANA Bisnis partners throughout Indonesia. Offline and Online merchants can self-onboard to DANA in less than an hour and instantly have the ability to accept as wide of a range of payment instruments as the largest merchants in the country. DANA also offers an easy-to-use merchant platform and real-time payment settlements capabilities.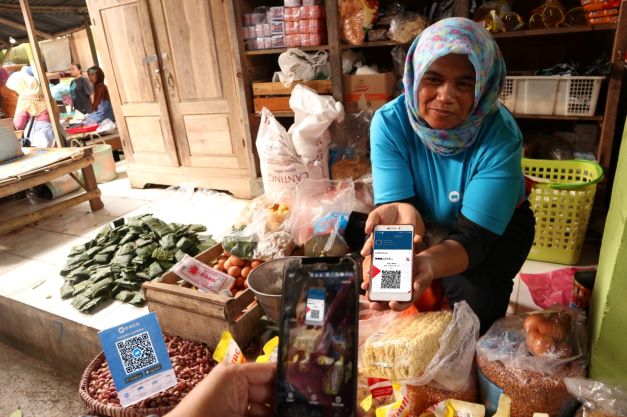 DANA continues to provide ongoing education for MSMEs as well as communities in various regions of the country, through several initiatives such as DANA Academy and DANA Talk, among others. In 2021, more than 1,200 entrepreneurs and communities have engaged in DANA's digital finance education initiatives. In addition to educational initiatives, DANA also empowers communities in Indonesia through impactful social initiatives focusing on women empowerment and environmental conservation (DANA Lestari).
DANA's new investors will be able to benefit from DANA's technology, its leading integrated payments, and its financial services platform, while continuously improving and expanding its financial lifestyle services for consumers and merchants in partnership with financial institutions. DANA is committed to remaining an open ecosystem platform for payment solutions and financial lifestyle services, which is necessary for greater financial inclusion. Supported by such a strategy, DANA is on track to more than double its total payment volume or gross transaction value in 2022 compared to 2021.
Vince Iswara, CEO & Co-Founder of DANA Indonesia says, "We are very proud to have Sinar Mas and Lazada Group join DANA as shareholders, alongside our very supportive existing shareholders EMTEK Group and Ant Group. We are confident that DANA's strong fintech platform will give a lot of strategic value to our valuable investors to drive our efforts in realizing our vision for a financially inclusive, financially literate and cashless society in Indonesia. The support provided by all shareholders will certainly strengthen us as we continue improving the digital financial services that DANA provides for all Indonesians and in accelerating financial literacy and inclusion to encourage national economic growth. We believe this investment is part of the business development that will prepare DANA for the next phase of growth."
Franky Oesman Widjaja, Chairman of PT Dian Swastatika Sentosa Tbk, said, "Our investment in DANA marks the start of a strategic, continuous collaboration between Sinar Mas and DANA. We are pleased to be investor in the leading digital wallet in Southeast Asia and are optimistic that the collaboration with DANA will bring added value to Sinar Mas' digital ecosystem. Collaboration between DANA and Sinar Mas' various business lines will ultimately boost the digital acceleration in Indonesia. We look forward to collaborating with DANA to provide positive impact in business digitalization in Indonesia especially on financial inclusion for every Indonesian."
James Dong, CEO of Lazada Group and Lazada Indonesia, said, "With an increasingly digitalized landscape in Indonesia and Southeast Asia, improving access to financial services and providing more payment options for both businesses and consumers are crucial developments. Even as Lazada remains focused on eCommerce, we see ourselves playing a key role in building technology, logistics and payments infrastructures that will benefit the region for the long term. Our investment in DANA represents a strategic move in the right direction."
DANA remains actively engaged and open for investment and partnership opportunities to selected potential investors who have conviction in DANA's vision and mission to accelerate financial literacy and inclusion in Indonesia.
***End***
About DANA
DANA (PT Espay Debit Indonesia Koe) is a digital wallet-based financial technology company that provides payment infrastructure and financial services in Indonesia. Since launching its application in December 2018, DANA has now reached over 115 million users in Indonesia. DANA provides safe, easy, and convenient end-to-end digital transaction solutions for users, merchants and financial institutions. DANA's solutions, developed by Indonesia's leading FinTech engineers, aim to advance and accelerate financial inclusion and literacy in Indonesia. In addition to digital financial empowerment, DANA strives to empower communities in Indonesia through impactful social initiatives focusing on women empowerment and environmental conservation.
For further information contact:
DANA
Putri Dianita
VP of Corporate Communications
Mobile: 0811 9949 387
E-mail: putri.dianita@dana.id
[1] According to data.ai, formerly known as AppAnnie.
[2] Population of >15 years old that do not have a relationship with a formal financial institution defined by the following products: transactional account (current / checking), demand deposit accounts, credit /debit card, according to Euromonitor International.